I have to admit that our state studies have sort of fallen by the wayside since our big move. Shame on me... But I plan on getting back into them. Really! LOL Anyway, I thought I would share how we do our state studies.
Books
-
Kids Learn America
Don't Know Much About the 50 States
Yo, Sacramento! (And all those other State Capitals you don't know)
Workbooks
-
Sticker Atlas of the United States
United States 2 - Workbook with Reward Stickers
Printables
-
The Fifty States Copywork & Fun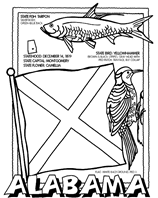 States Coloring Pages from Crayola
FREE
United States Geography Resources from Homeschool Share
FREE
More FREE Resources -
50 States Notebooking Squidoo Lens
50States.com
United States Worksheets from School Express
http://www.youtube.com/watch?feature=player_detailpage&v=sNUDDaEOvuY
Wakko's 50 State Capitols Song
Here is a WHOLE bunch of
50 States videos from YouTube
!
Here is a list of
Kindle books about the 50 States
. Keep checking back because I got a few of them for free.
Next week I will be sharing our president studies as well as Aztecs, Incas and Mayans, and England!
I am also working on my boy look for week 3 of
Project Run & Play
. I am doing a lot of new to me things..... YILES!!!!!!! I should have the look up by Sunday and hopefully the tutorial up by Tuesday.